Is helping unite the communities you serve important to you? Regardless of background, income level or education, our country has continued to experience a gap in our citizenship. Bridging the gaps in our communities caused by systemic racism will require courageous understanding and action. As a new community partner, we have a few things in place to help introduce an incredible and free program to you, your staff, and the communities you diligently serve. It's about the people, not politics.
F.R.E.E.D.O.M. Bridges is a nonprofit partnership that allows positive and perspective shifting information to be dispersed within communities.
Our training is designed to:
Create a safe and unique way to learn how to overcome the fear of communicating and confronting racism
Offer strategies to remove common stumbling blocks that often occur when discussing past and current racially charged topics
Increase confidence and comfort levels that empower unifying thought processes
Teach emotional and situational intelligence skills that help us confront internal thoughts and words that divide us.
Encourage positive communication outcomes when discussing negative circumstances
All at no cost to you or your organization!
If this sounds like something you would like to offer to the community, let's get started!
If you would like to be a part of bridging the gaps of systemic racism in the communities you serve, click here to get started. We can help replace unproductive silence with positive communication habits and unifying thought processes.
We hope you join us the fight against negative communication and the social unrest they cause.
Step 1: Complete the Community Partner Onboarding Form
This form will allow us to work with you and provide us with the information needed to plan our training.
The online form is available here.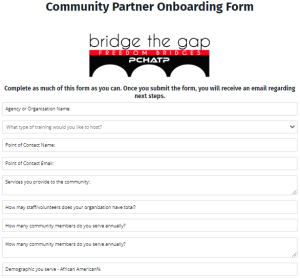 Step 2: Onboarding Webinar
Once you have completed the Community Partner Onboarding form, our team will reach out with our onboarding webinar scheduling options. During this webinar we will:
Overview the program and how to provide free online training access to your staff
Explain opportunities to provide free access to our online training to the community members you serve
Explain the collateral you will be receiving and the training opportunities available
Step 3: Coordinator Onboarding
We will schedule a call with the point of contact (POC) listed on the Onboarding Questionnaire. During this webinar we will:
Confirm and clarify the information submitted via the Onboarding Questionnaire
Set expectations for participation and training schedule
Answer any questions that you may have